Pennsylvania State Assessment System (PSSA)
The Pennsylvania State Assessment System changes significantly for 2014-2015 as the PSSA is aligned with the new PA Core Standards for reading, writing, and mathematics. The assessment of reading and writing are combined into an English Language Arts PSSA (ELA) which in grades 3 to 8. The Mathematics PSSA also changes and is aligned with the PA Core Standards for Mathematics.
Link to
PSSA Website
at the Pennsylvania Department of Education
Keystone Exams continue to be administered in three subject areas at the secondary level with a statewide requirement of proficiency on the three exams as a graduation requirement. See the Keystone Exam section below for more information.
PSSA Testing 2016-2017
The PA Department of Education has established the testing dates listed below with schools setting their own testing schedules within those windows. Information about testing will be sent home from your child's school as testing dates approach.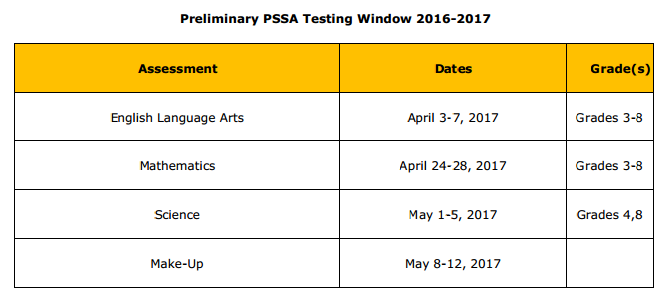 Keystone Exams
Keystone Exams are end-of-course assessments and are administered as students are completing courses related to the three Keystone Exams--Algebra 1, Literature, Biology. Keystone Exams are administered in Literature and Biology in 10th grade during the semester in which a student is taking a Biology or English 10 course. Algebra 1 Keystone Exams are given near the end of Algebra 1 course. Schools will inform students about the exact testing dates for their school with testing generally scheduled near the beginning of the testing windows.
Keystone Literature Exam—at the conclusion of the 10th grade English course
Keystone Biology Exam—at the conclusion of the Biology course
Keystone Algebra 1 Exam—at the conclusion of the Algebra 1 course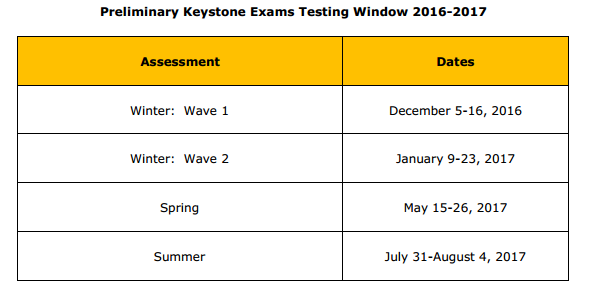 Students who take a Keystone Exams but do not score at the proficient level may be retaking a Keystone Exam. Currently, the Keystone Exams are a PA State requirement for graduation, beginning with the Class of 2019.